Epic Content Marketing by Joe Pulizzi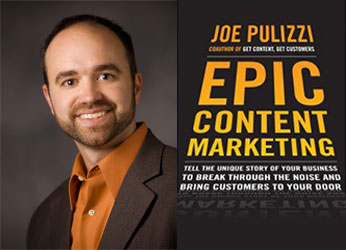 Hi Divers,
I just finished reading Joe Pulizzi's book Epic Content Marketing.
Do you want to increase traffic to your blog?
Do you want to increase sales of your product or service?
Do you want to build awareness of your brand?
Then this book is for you. 
Key Lessons
Customers don't care about you. They care about themselves and their problems.
It's not about you and your awesome product. It's about them.
Stop selling to them.
Focus on their needs. Add value to them. Serve them.
Inform them, engage them, amuse them.
Make them more intelligent.
This is the only way to build trust. Once you build trust, selling becomes effortless.
Provide content that makes people stop and read what you have to say before you even think to sell anything to them.
Epic content is helpful, relevant, compelling, educational.
It's not about finding customers, it's about finding fanatic customers that will trust you 1000%.
Use storytelling. Storytelling shows why the brand exists. And that's beyond any products or services.
You need to emotionally engage people. They have to see themselves in you.
The Six Principles of Epic Content Marketing
Epic content needs to fill a need: Your content should answer some unmet need. It should solve a problem that people have. It should add value. Sometimes, it meets just an emotional need. Have a look at Coca-Cola's or Red-bull's storytelling. Another example now. Have you ever seen any of

Gary Vaynerchuk's videos

? Their purpose is to make take action. To awake the giant inside you. The target straight to your emotional world.

It communicates consistently: When you subscribe to a magazine, you expect your magazine to arrive to your door on time and as expected. The same holds with your content. Deliver consistently giving the best value as expected.
It requires you to find your unique human voice: Be human. Be you. Don't be a reporter. When people build a brand, they become a brand. They speak like a brand. People want to connect with you. Show emotions. Send your newsletter as if you were sending a text message to your friend.
It expresses a point of view: Take a side on a matter. Don't be afraid to have opinions. People will identify themselves with you because of your ideas and opinions. You can't please everybody. What matters is not customers after all. It's fanatic customers that will follow you no matter what.
It is less about sales: "The more you talk about yourself, the less people will share and spread your story."
It is the best content in its niche out there: The ultimate goal is to provide content that people can't find anywhere else. Though this sounds impossible in the beginning, the ultimate goal for you is to provide the best content out there that will position you at the top.
Do they above six points sound obvious? Yes, but who applies them to their marketing strategy?
It's all about the brand. How cool we are. Why we are the best. What our product can for you. 
NO!!! 
Listen first. Then see how you can help and add value. Maybe sell later. They will buy from you. Why? Because they trust you.
Finally, Pulizzi says that epic content usually has some additional characteristics. It's real time, fact-driven, efficient, visual and curated. Read here for more.
Really disruptive book. I learned a lot from it. Read it.
Kindness and smiles,
Angelos